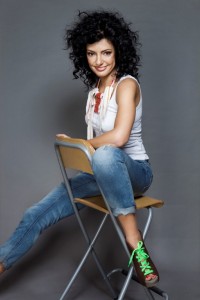 A.G. Billig is a bestselling published author of  fiction and non-fiction books.
She began writing short stories at the age of 8. Imagining plots and characters became her favorite pastime, leaving little time for playing with toys and dolls. Soon after, she started taking part in national literary contests and children magazines featured her creations. The grown-ups acknowledged her gifts, speaking on radio, TV and in print about the 13-year-old writer. They also awarded her with several first prizes in the most important national writing contest for young people in short story, reportage and drama categories.
At fifteen, A.G. finished her first novel, a book she may decide to publish someday. She also discovered  that she could express her creativity as a journalist. She wrote articles and interviews for several newspapers and magazines, she was a TV host and a radio presenter. In addition, after gradutaing from University, she developed a career in communication, as a PR Consultant.
A. G. Billig's first collection of short stories is called Four Doors and Other Stories. It's been launched as en eBook in November 2012 by  MP Publishing (U.K.). A  revised Romanian version was released in paperback and digital by Datagroup publishing house in June 2013. She chose to self – publish her first non-fiction book. "I Choose Love!"  was realeased on the 20th of March, 2016,  and became a best seller on Amazon in four different categories.
As the daughter of a French father and an Eastern European mother, A.G. is a natural born traveler.  Her trips took her across Europe, to the Americas. It was during a spiritual journey to Brazil to the magical land of Abadiania, at the end of 2010, that she found out that writing is her life purpose.
Everything in life happens for a reason. That reason is to help us growth, to make us happy. As soon as we understand this, we understand the Universe's language made up of small or big events we usually put down to coincidence or luck but what I'd rather call synchronicities. You know, being at the right time, in the right place, with the right person.
When she is not imagining things, she enjoys dancing, doing sports (skiing, skating and kick box aerobics), taking long walks, reading, listening to the music and being outdoors. She shares her flat with the lovely Oona The Yorkie.
As many spiritual teachers say, the human being is a harmonious combination; maybe the most harmonious that ever existed between spirit and matter. Let's not forget that in our daily busy lives.