28 DAYS OF JOY
By A.G.Billig
Dec 3rd, 2018
0 Comments
111 Views




When somebody asks you what makes you happy, how long does it take for you to come up with an answer? Do you need rack your brains to find it or it's sitting right there, on the tip of your tongue? Is it one thing or you could go on and on for a day and a night? 
By the time November speeded through its last days, I had decided that December will be a month of joy for me. Since everything around is glittery and wrapped in shiny, colorful present paper and the city dresses up in a million sparkling lights and merry Christmas trees stand tall at crossroads and in shopping malls. Since "It's The Most Wonderful Time of The Year" is on heavy rotation again. Why fake Christmas? Why fake the winter holidays? Why not truly experience it? Why not feel and be joyful?
I know, I know. So many questions. But here's the solution. As of today, until 2018 ends, for 28 consecutive days, let's invite joy into our life. Especially if you forgot how joy looks like or feels like or smells like or sounds like. I challenge you that every day, starting today, December 3rd, do something that brings joy to you and something that brings joy to another person.
If you ask me what makes me feel joyful – aka makes my heart sing, I can name a few things: writing, walking on the beach, dancing, Oona the Yorkie, making other people happy, loving and being loved, climbing the red rock of Sedona, sharing my soul and knowledge with other people, going to the gym, singing, listening to the music, connecting heart to heart with another human being. There must be more. I'm going to find out and share every new discovery with you. Please, do the same in a comment below. Please, challenge your friends. Give yourself the most precious and greatest present ever: joy. Let's make this December the most joyful it ever existed.
You can join the challenge on Facebook, Twitter, and Instagram and use #28daysofjoy.
*****************************
December 6th, 2018
JOY FOR ME: doing my first Facebook live (can you believe it????)
JOY FOR SOMEONE ELSE: a Christmas gift
Today I did my first Facebook live. It felt wonderful to share some of knowledge, insights, and experience related to life purpose, love as our true nature, the everyday miracle in our life which is our body with the readers of one of the most famous Romanian online lifestyle magazine, kudika.ro. It wouldn't have been the same if I didn't have by my side the beautiful dr. Oana Trifu Bulzan, the editor-in-chief of the magazine and a soul friend. Today's live marked the celebration of our friendship (4-year old according to Facebook, but we know it's longer than this) and the perfect moment to invite the ladies to a retreat for body and soul we're hosting mid-January 2109. Those of you who can speak Romanian can check it here. Three days of pampering yourself at a luxurious SPA, healthy food, nutrition and self-growth workshops, which will boost your self-love and unleash your feminity. How about that?
Today's experience confirmed what I already knew: each time we immerse ourselves into something we love, we replenish our tanks of positive energy. So, I didn't mind at all the crazy traffic back home. On the contrary, I enjoyed the time spent in my car and sang along with the CD playing some of my favorite rock songs. Why are you joyful today? Please, share your moment(s) of joy in a comment below <3.
*****************************
December 5th, 2018
JOY FOR ME: playing guitar, writing
JOY FOR SOMEONE ELSE: a hearfelt hug
You see, when I challenged myself to 28 days of joy, I told myself to find my joy without spending money every day. Not because I don't want to or I don't have any but because often we lie to ourselves that a new "thing" will bring us the joy we lack. Well, it's not always the case. I believe that experiences sometimes outrank any object we can buy. So, today I decided to do something I haven't done in a while-practice my guitar. One of the plants on my balcony bloomed despite the cold weather. I immersed myself 100% into writing my weekly articles for kudika.ro and sang along with Queen on "Mother Love." I also hugged someone, out of the blue. And I'm going to call my mom before I go to sleep to tell her I love you and wish her goodnight.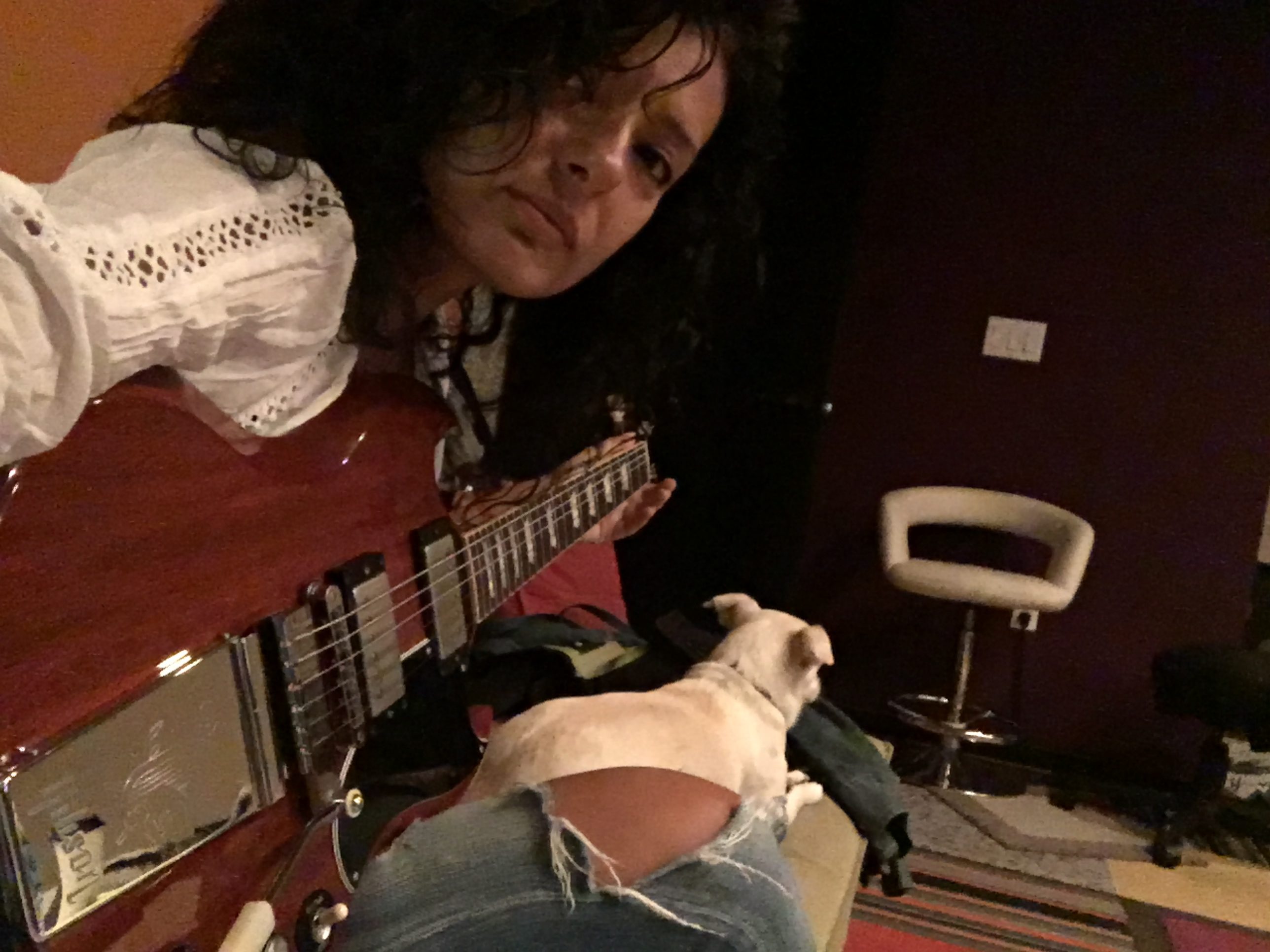 *****************************
December 4h, 2018
JOY FOR ME: attending a group fitness class I love, playing with Oona, buying a new dress, saying "I love you!"
JOY FOR SOMEBODY ELSE: saying "I love you!" and being fully present in the moment with that person
As I'm writing these lines, the "I" I'll be a year from now is peering to the computer screen over my shoulder, making my lips curl upwards. I am aware by now that I always change and evolve. I look less and less for answers and solutions outside. I prefer to go deep inside, understand the meaning of the lesson, and continue to spiral up.
It's my second day of the experiment I can tell you that the decision to consciously invite joy into my life already makes a difference. For example, last Friday I quarreled with a person dear to me, whom I consider my friend. Despite my attempt the next day to talk things through, we haven't been in contact ever since. There are moments when I miss him and our bond. When I wish I had spoken different words. Yet, I'm not blaming myself nor do I see myself as a victim or less of a woman. I'm just accepting things as they are and allow us the time to process what happened. And maybe remember that we are one, united in love. Even when the mind refuses to acknowledge the truth, the heart knows it.
In the meantime, I choose joy. The day is not over in Europe, and it just begins in the US. So far, my biggest joy today was to say "I love you!". Each time I say these words, my heart jumps with joy up to the Moon because they express my essence, and I allow myself to express who I am. I said "I love you" to my friends, my mom, Oona the Yorkie, Gilly, one of my favorite group fitness trainers. I was also 100% in the now during our time together, giving her my full attention and my energy. Sometimes, when you don't really know a person, her tastes, likes, and dislikes, that's the best you can offer. As for the dress, well, there is always room in the closet :). Femininity is a precious gift that brings joy to the eye when clad in the right outfit.
*****************************
December 3rd, 2018
JOY FOR ME: HUGGING A TREE
JOY FOR OTHERS: KINDNESS
I'm back in the city where I was born for the winter holidays. This morning, I took Oona for a longer morning walk than usual. Since the sky was clear and the sun, warm and friendly, we went to the nearby park. It's small but nice, with old towering trees stretching their branches over the cobblestone alleys. I stopped by my favorite one, the first time in a long time, and hugged it. Joy filled my soul. My heartbeat slowed down, my thoughts dissipated, calmness and peace nestled in my soul. The tree surrounded me with its beautiful, loving energy.
On our way back, we walked by a group of men, construction workers, ready to start their work day. Typically, I would have ignored them only this time I said hello and wished them a good day with all of my heart. People can feel the energy we put behind words. They answered back cheerfully.
Related Posts